Julian Tencza loves to fly. He has logged more than 10,000 hours of flying time.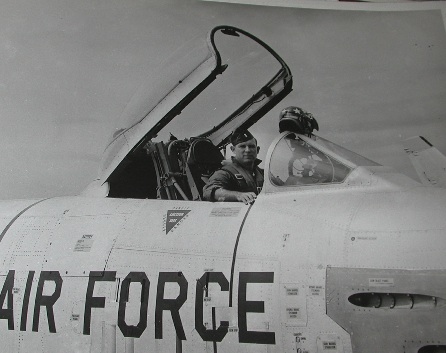 He's flown the Fairchild C-119, "the Flying Boxcar" and the C-124, the "Globemaster". Trained on a Stearman biplane, he flew F-80 jets, combat missions in World War II. He ferried a brand-new B-26 from the factory to Europe (via West Palm Beach to Puerto Rico, Brazil, Ascension Islands, Africa, Morocco, England, then France, Belgium, Germany.)
His favorite? The jet, because he flew alone, and could do what he wanted to do. "With a crew, there is a lot of responsibility."
Here is a man who does not shun doing what is right.
Tencza retired as a lieutenant colonel after 33 years in the U.S. Air Force. He is a commercial pilot and a flight instructor, with instruments, single and multi-engine ratings. He has air medals with four oak leaf clusters (which means five air medals).
In 1942, he was received his call up notice for the Army, did the physical, was classified 4F due to an ear problem. Undeterred, he went to a doctor in Wallingford (Connecticut), got the ear fixed, and went into the Polish Armed Services, then based in Canada.
Since he had loved riding motorcycles, had taken a few spills on his Indian, he thought maybe he should try flying.
"Before I went into the service, I was a student pilot at 19, and had 31 hours as a student pilot at the Meriden airport." (Now called Meriden-Markham Airport, named for the flight instructor who trained Julian Tencza.)
With the Polish Army/Air Force, Tencza gained military experience. Then the unit discontinued American citizens enrollment. Tencza was accepted into the Army Air Corps.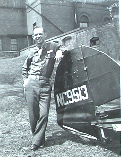 "Before flight training, they sent me to Colby College," he said. He did "pretty well" and trained on a Stearman biplane.
Soon he graduated and was flying the B-26 Marauder, a World War II twin-engine medium bomber.
"It was called the Widowmaker, had a nasty reputation. Not easy to fly," he recalled. The other name was 'one a day in Tampa Bay,' (for the crashes that happened during training) that's how bad the reputation of the airplane was."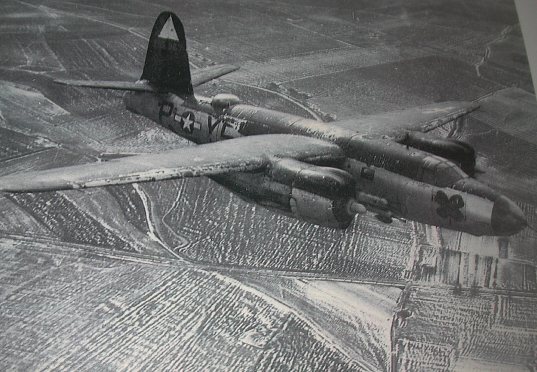 Then he was flying over Europe, based at an airfield in France, north of Paris.
He points to flying in precision formation, over Germany during WWII.
"Around the airfield were anti-aircraft guns, the ground crew shot the German planes out of the sky," he recalled.
He still has a small compass that was part of the pilot's survival kit, which included matches, a detailed silk map of wartime Europe.
"That was in case we got shot down," he said.
Tencza flew 25 missions; one was a forced landing due to an engine being shot out. (The plane had two Pratt & Whitney engines, and 11 (eleven!)  50-caliber machine guns on board.)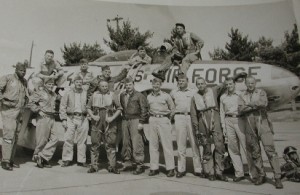 "Had to land on a fighter strip," he recalled. "We were missing in action for three or four days, no one knew what happened to us." The flight crew ended up in Paris with official permission to tour the city in their combat flying uniforms, after they had checked in with their command.
Tencza held USAF command pilot rating from 1970.
He flew out of Hanscomb AFB, switched from jets, transferred to Bradley, C-119 and C-124s out of Westover AFB.
"What else do you want to know?" he asks. After a lifetime of accomplishments, teaching others to fly, helping the people around him, he remains a modest man. Married, his wife recently passed on. They have three sons, and grandchildren.
Tencza continues to fly regularly. He teaches and trains pilots around the state.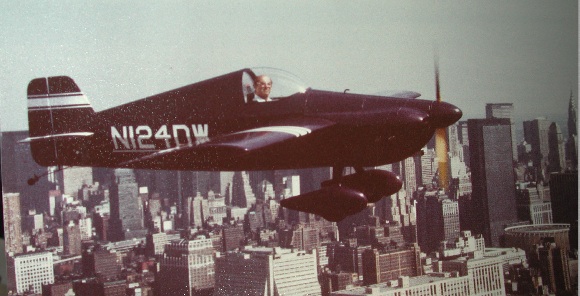 That's him (above) over New York in his Wallbridge Cassutt 111-M (which he later sold).
"I'm still around," he says.
Editor's note: But he's not anymore. Julian Joseph Tencza, 94, husband of the late Victoria (Chmura) Tencza, died on Thursday, March 17, 2016. Complete obituary linked here at Legacy.com as published in the Record Journal. It was a honor to have met, known, and flown with Tencza, a good man.