Beatrice Fox Auerbach was ahead of her time as an entrepreneur, business owner and community leader.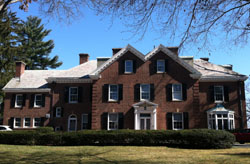 Tour the home and grounds of Beatrice Fox Auerbach on the 100th birthday of her former residence, thanks to current owners Diane and Chris Gent.
Connecticut Historical Society (CHS) and guests celebrate G. Fox and Auerbach's legacy on Thursday, Sept. 13, 5 to 8 p.m. at 1040 Prospect Avenue, Hartford, Connecticut.
See where she entertained guests such as Eleanor Roosevelt and experience a "show" of G. Fox items. Drinks and refreshments will be served.
Donation is $50 and proceeds will help fund CHS operations.
Call (860) 236-5621 for a reservation as space is limited.
Those attending this special event will have the opportunity to purchase a glass ornament that features a Richard Welling's "Christmas Remembered" scene of G. Fox. The ornament is made in the U.S. and costs $10.