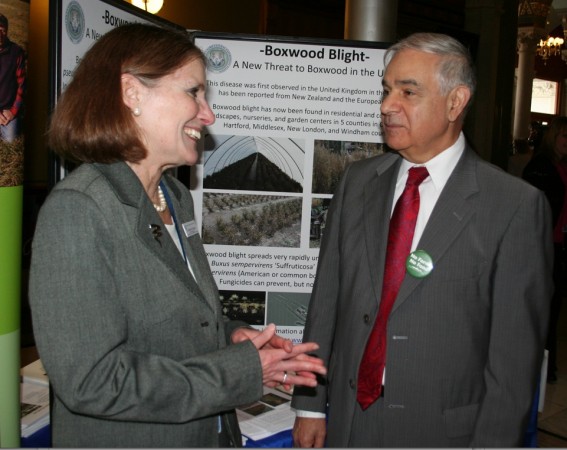 Dr. Louis Magnarelli, director of the Connecticut Agricultural Experiment Station (CAES), and Dr. Sharon Douglas, head of the Department of Plant Pathology & Ecology and plant pathologist there, shared information about boxwood blight and other news at the recent Ag Day at the Capitol. Some 50 different agricultural representatives connected with the people who shape legislation in Connecticut and shared information and news that affects food and the quality of life in the state.
The Ag Station is where science meets the human community and their environment. Scientists test for West Nile Virus and other mosquito-carried diseases along with tick-borne diseases. They inspect and certify farm produce for export out of the state. Scientists recently identified Pachysandra terminalis as a host of the fungus that causes boxwood blight. And that's just a part of the station's ongoing mission to maintain the well-being of humans in the state and across the nation.
Jeffrey Ward of CAES and Thomas Worthley of UConn Cooperative Extension will lead an "Invasive Shrub Control Workshop" on Saturday, April 21, at Goodwin Conservation and Education Center, Hampton, 10 a.m. to 2 p.m.
Controlling Japanese barberry can reduce the risk of exposure to Lyme disease and other tick-borne diseases. The workshop is free; pre-registration requested at (860) 455-9534.
The event is sponsored by Goodwin Forest Conservation Education Center, Friends of Goodwin Forest, CAES, University of Connecticut Cooperative Extension, USDA NRCS Connecticut.
The annual CAES spring open house is Wednesday, April 25, at the Donald F. Jones Auditorium, 123 Huntington St., New Haven. "Research on Connecticut Crops and Food Safety" topics and displays on blight and invasive species to reduce Lyme disease; new wine grape cultivars, and more.