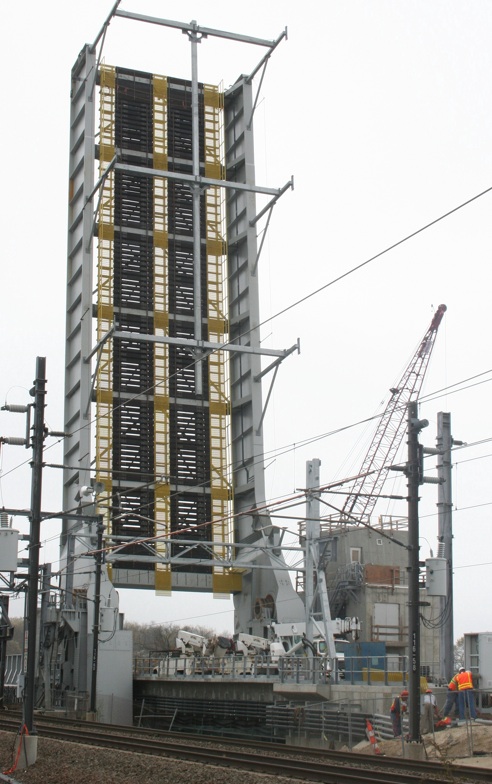 Work continues on the Amtrak bascule bridge over the Niantic River, between East Lyme and Waterford.
Partially funded by the American Recovery and Reinvestment Act, the 100-old current span is a key link for passenger and freight rail traffic between New York and Boston. The new replacement will enable increased speeds, minimize traffic and delays.
Construction is scheduled to be completed in May 2013.
Major work elements include construction of new track alignments on both the east and west approaches to the bridge; expansion of the navigation channel beneath the span from 45 feet to 100 feet; and an increase in the vertical under-clearance above the water from 11.5 feet to 16 feet. In addition, sections of the overlook boardwalk will be reconstructed and the beach replenished.
The new structure will replace one of the oldest movable bridges in the country, a two-track, bascule (rolling lift) bridge built in 1907, which has been in continuous operation ever since. It is one of five movable bridges along the Northeast Corridor rail line between New Haven, Conn. and Boston, Mass. Once the new bridge is operational, the existing bridge will be removed.
The existing boardwalk and sidewalk that passes under the existing bridge's westernmost span will be demolished and rebuilt to a new alignment to connect the boardwalk to East Lyme's Cini Park. The waterfront-access park offers views of the Niantic River with interpretive signs describing the area's history and offers a canoe and kayak launch for exploring the bay and Long Island Sound.