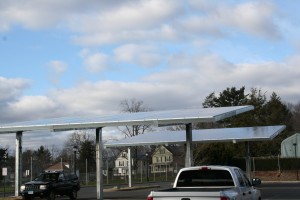 Installations of Safari Energy, LLC, solar photovoltaic (PV) panels in the Freeman Athletic Center parking lot are part of the overall green energy upgrades at the university with a leadership commitment to use "clean, renewable energy whenever appropriate."
Safari Energy (SE) is a solar energy corporation based in New York that is managed by Wesleyan University alumni Matthew Rudey, CEO, and John Nordeman, president.
A solar PV system of 32 panels was installed by Alteris Renewables on student housing at Wesleyan. The 7.2-kilowatt system now supplies about 57% of the dormitory's electricity needs, according to the Connecticut Clean Energy Fund which "promotes, develops, and invests in clean energy sources for the benefit of state ratepayers."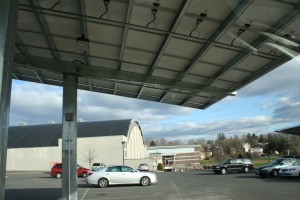 Two projects, East Lyme Solar Park and Somers Solar Center, were selected after a competitive evaluation of 21 projects submitted to the Department of Energy and Environmental Protection (DEEP).
Each of the projects is designed to provide five megawatts of solar energy for the electric grid. Developers will have the right to enter into 20-year power purchase agreements with the state's two electric distribution companies, Connecticut Light & Power (CL&P) and United Illuminating (UI).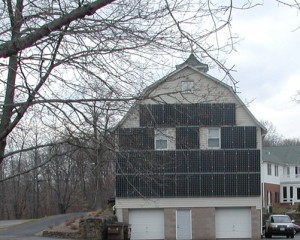 HelioSage Energy, LLC, is a developer of solar energy projects throughout the northeast. The proposed project will features ground-mounted solar photovoltaic panels which will be sited on 50 acres in Somers, and is anticipated to be operational by November 2013.
The East Lyme Solar Park developer is GRE 214 East Lyme LLC, which owns the site at 44 Grassy Hill Road. Originally intended for the development of residential homes but now a vacant lot, it will be the location of the 5 megawatt large-scale ground-mounted photovoltaic solar development project.
The selection process involved representatives of DEEP, Office of Consumer Counsel and the Connecticut Clean Energy Finance and Investment Authority.
"We believe the installed costs of these two solar projects are among the lowest offered by any comparable solar projects in the nation," said Governor Dannell Malloy.