There is no centralized master plan for storm preparedness in Connecticut – for how state government should interact with its own agencies and coordinate its own activities with those of the utilities and municipal governments.
That was one finding at the conference when Connecticut Governor Dannel Malloy and Witt Associates Vice President Charles Fisher presented a report about on how Connecticut's public utility companies and the state handled power restoration following the recent October snowstorm and subsequent widespread outages.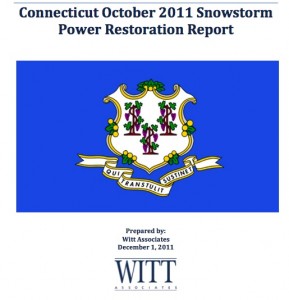 The Witt report, which was completed on an expedited timeline, details a number of key findings and recommendations for utility companies to be better prepared for weathering the next storm – and points out possible improvements for state and municipal governments, including the need for better communication systems between emergency management personnel and public utilities.
"This was an unprecedented storm that caused real hardship for many of our residents," said Governor Malloy. "But if something good came out of it, it's that it's giving us the chance to put in place an unprecedented level of response should it be necessary in the future."
The Governor also expects a long term plan from members of the Two-Storm Panel and a more detailed follow-up report from an outside consultant soon.
Witt Associates detailed 27 recommendations for improvement and outlined three main areas of concern.
Report highlights:
"Public sector emergency response planning at the state and local levels does not adequately focus on actions needed in a significant power outage and assignment of responsibilities in mitigation, preparedness, response, and recovery in utility disruption events. State and local plans call for reports from power companies but do not address multi-agency actions or coordination needed to address energy disruption."
"CL&P was not prepared for an event of this size. The worst-case scenario in the company's emergency response plan considered outages more than 100,000 customers, or less than 10 percent of their total customer base. At peak, 809,097 customers – about two-thirds of its base – lost power as a result of the October snowstorm. Inadequate pre-staging adequate restoration resources in advance of the Oct. 29 snowstorm delayed the recovery effort in the first days. CL&P developed an internal stretch goal to restore power to 99 percent of all customers by Sunday, Nov. 6, even though they appeared to know it was more likely that they wouldn't hit that goal until Wednesday, Nov. 9."
Governor Malloy has asked the Department of Emergency Services and Public Protection (DESPP) to review plans currently in place at the state and municipal levels, with an eye toward creating a "master plan" that would lay out how the state should work with municipalities and the utilities should an event like this occur again.
While the Witt report primarily concentrated on Connecticut Light and Power (CL&P), Governor Malloy said he believes United Illuminating (UI) should "glean what it can" from the report to improve its disaster preparedness plans.
"The primary objective of the review was to identify opportunities for improvement going forward," Fisher added. "While it is our desire to be helpful in this review, it is very important to recognize that there were millions of successful actions taken by utility, local and state government personnel to clear the roads and restore power for individual citizens; their schools, businesses, and communities should be commended."
After the announcement, Fisher was scheduled to present findings to the Two Storm Panel.
To download a copy of the report, go to: www.wittassociates.com.
Additional information on the Two Storm Panel, including past announcements, meeting agendas and minutes, can be found at www.governor.ct.gov/workinggroups.