Downtown Hartford has not been the same without professional hockey.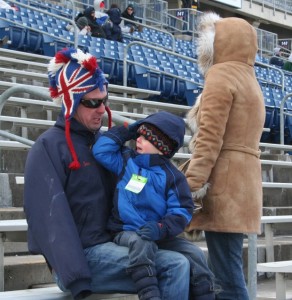 Now Howard Baldwin, Whalers Sports & Entertainment (WSE) chairman and CEO, has recently unveiled an ambitious "New England Sports & Entertainment (NESE)" plan to use hockey to revitalize downtown Hartford.
The centerpiece of Baldwin's proposals is an outline for transforming the XL Center into an NHL-ready facility and the pledge to pursue the purchase of an NHL franchise.
"An independent economic study has indicated that a refurbished XL Center would create as many as 1,500 new jobs per year, and economic activity would be boosted by an average of between $48.3 million and $61 per year" Baldwin said. "And new state net revenues would total between $7.3 million and $8.6 million per year.
"With that in mind, our goal is to work with the City of Hartford, the State of Connecticut and the corporate community to restore the XL Center to its rightful place as a sports and entertainment destination."
Robert Mead, senior vice president of marketing, product and communication of Aetna, which commissioned the economic study, also spoke at recent Metro Hartford Alliance's "Rising Star Breakfast event, which it sponsored and where the proposed plans were unveiled.
Having already taken steps to revitalize hockey in Hartford through the Whaler Reunion event in the summer of 2010, and the re-branding of the city's AHL franchise to the Connecticut Whale, NESE now proposes to use a strategic public-private partnership to take the next step.
The NESE plan includes a major overhaul of the XL Center's mechanical systems and concessions, arena seating and luxury-level seating. In concert with the renovation, the Trumbull streetscape adjacent to the arena would be transformed into a walkable dining and entertainment draw – and means the pursuit of a Hard Rock Café or Planet Hollywood, and the opening of an IMAX theater and food court. Also sought for the dining options would be a new Geno Auriemma's "Fast Break" pub and restaurant.
The newly-redesigned XL Center would also feature a visible TV media center at the corner of Church and Trumbull Streets, and state-of-the-art broadcast facilities throughout the building.
Pre-design estimates for the cost of the arena and streetscape upgrades total $105 million, for which state and city funding, as well as access to economic development grants and/or loans, will be sought.
A video presentation that accompanied Baldwin's speech can be viewed via the following link: http://youtu.be/IFkjlYgU4OQ.
The AHL's Connecticut Whale is operated by Whalers Sports and Entertainment, a Hartford-based sports marketing and event firm founded by Howard Baldwin and Howard Baldwin, Jr. The team is the top player-development affiliate of the NHL's New York Rangers.