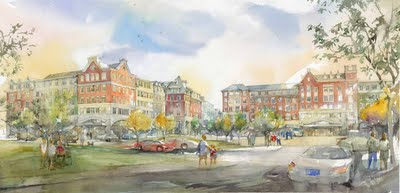 Education Realty Trust Inc. (EDR), based in Memphis, Tennessee, along with the Mansfield Downtown Partnership, Storrs Center master developer Storrs Center Alliance (an affiliate of Leyland Alliance LLC, of Tuxedo, New York), broke ground for construction on Storrs Center, a mixed-use town center adjacent to the University of Connecticut.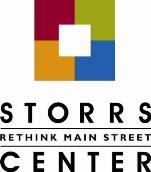 EDR will own and manage the approximately 290 apartments in Storrs Center that will also include new retail, restaurant and office development within a planned community of pedestrian walkways, green spaces and conservation areas.
Connecticut Gov. Dannel P. Malloy, U.S. Rep. Joe Courtney, Secretary of State Denise Merrill, State Rep. Gregory Haddad, Mansfield Mayor Elizabeth Paterson, University of Connecticut President Dr. Susan Herbst and Mansfield Downtown Partnership Board President Philip Lodewick attended the ceremony.
"It is one of the most exciting public/private initiatives in the state," said Dannel P. Malloy, Governor of Connecticut. "This project does all the right things: It maximizes the value of the University of Connecticut, puts people to work and creates a town center to enhance the quality of life around a great university."
"This is an investment in our community, our university and in our young people," said Dr. Susan Herbst, University of Connecticut president. 'With the addition of the new technology complex and enhancements to the medical center, the only missing piece was a vibrant downtown and town square."
The University of Connecticut Co-op signed a letter of intent agreement with LeylandAlliance for an anchor store at the project. The Co-op has served the UConn community for more than 36 years and will continue to support the community and its members with an additional bookstore.
Scheduled to be completed in 2012 and 2013, respectively, the first two phases of Storrs Center will include commercial and residential offerings.
The retail and commercial space will be owned and managed by Storrs Center Alliance. A number of local and national businesses are leasing portions of the 70,000 square feet on the street level of the mixed-use buildings.
"The groundbreaking for Storrs Center is a tremendous achievement, especially in the current economic climate, for the Mansfield Downtown Partnership, the Town of Mansfield and the University of Connecticut. It is really a tribute to the vision, hard work and steadfast commitment of our dedicated public partners and the many talented volunteers we have been so fortunate to work with over the years," said Howard Kaufman, managing member of LeylandAlliance LLC, master developer of the project.
Construction will continue until next fall, when the first stage of the project is set to be opened.