The Hartford Circus Fire Memorial outlines the circus tent where 168 died and thousands were injured at the matinee performance of the Ringling Bros. and Barnum & Bailey Circus on July 6, 1944.
What should've been a festive outing on a sultry July day turned deadly when a fire blossomed in the tent (reports differ as to where and why) and quickly fanned out to engulf the entire tent – with some 8,700 people inside. What ensued changed history. The lessons in public safety should never be forgotten.

The memorial is located behind Wish Elementary School at 350 Barbour St., Hartford, in the North End. Unless you are familiar with the area, consult a map as it is easy to get lost in the inner-city neighborhood.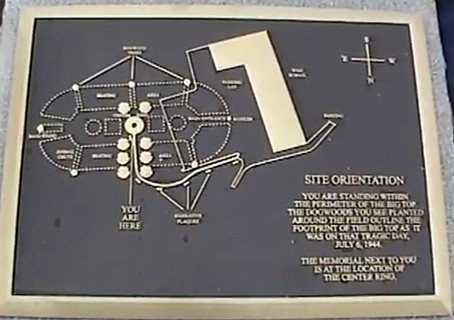 The Book That Is A Must Read About the Fire and the City:
The Circus Fire, by Stewart O'Nan, is a gripping account of the fire and ensuing events (the people, their firsthand accounts and the aftermath will bring the time alive). O'Nan is a novelist and short story writer and writes that he "never intended to write the book."
However, soon after he moved to Connecticut, he went looking for a book about the fire – and was stunned to find there wasn't one. He began researching, thinking he'd turn his notes over to another writer, even asked newspaper reporter Lynne Tuohy, who had written an exhaustive feature for the Hartford Courant, about the project. She declined; O'Nan then crafted his book. "I started asking people around town what they knew about it. Everyone had a friend or neighbor who had been there that day, a grandmother or a cousin. Everyone had a story."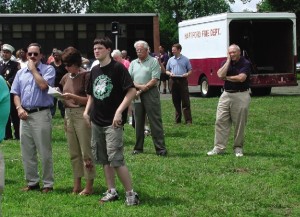 To Remember: Check listings for the CPTV documentary, The Hartford Circus Fire of 1944, that usually airs each year on public television. To learn more about the event, consider Mary-Ann Tirone Smith's Masters of Illusion (fiction); poet Paul Janeczko, Worlds Afire; Don Massey and Rick Davey, A Matter of Degree.
Editor's Note: This story originally appeared with additional images in a print edition after the groundbreaking for the memorial on Barbour Street.