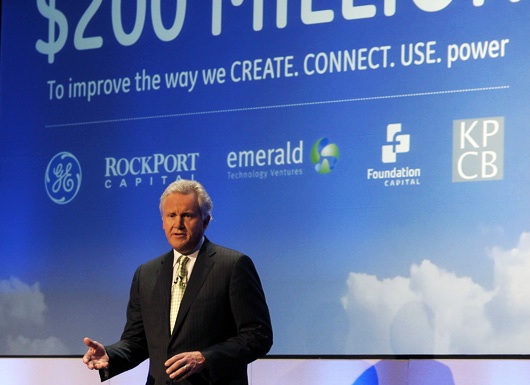 GE, the world's largest maker of electric turbines, is working with venture capital firms Kleiner Perkins Caufield, RockPort Capital, Foundation Capital and Emerald Technology Ventures to invest about $63 million into 10 green-technology start-up businesses.
GE will also award five $100,000 grants to less developed companies trying to make products based around solar power and home energy efficiency.
This is the second round of the $200 million "GE Ecomagination Challenge."

Solar thermal systems and LED lighting are part of the company's ongoing program that reviews thousands of start-ups' business plans for possible funding. Much of the technology is focused on reducing energy use in the home, or on better communication between energy users and utilities.
GE also will partner with the world's largest consumer electronics chain, Best Buy Co Inc. to get ideas from concept to consumer faster. Energy-reducing products, such as a home energy control device and a solar air conditioning control system, will be available at Best Buy stores in 2012.
So far, GE and partners have allocated about $134 million out of a planned $200 million in funding. Among the 10 start-ups winning GE funding are Ember, a Boston communications and software company; Austin-based Nuventix and Manchester, England-based VPhase, which both make building efficiency systems; and WiTricity, a communications and software company in Watertown, Mass.
GE said it plans to launch a similar innovation challenge in China that would extend beyond clean-technology start-ups to areas like healthcare and aviation.
Competitive Power Ventures, Inc. (CPV), GE Energy Financial Services and Diamond Generating Corporation (DGC) are co-owners of the planned $900 million CPV Sentinel power plant and recently have closed the largest project financing in the U.S. thermal power industry this year, for the facility to be built in Riverside County, Calif.
Twenty-three banks, working with lead arrangers MUFG, Royal Bank of Scotland, ING, Natixis and Sumitomo Mitsui Banking Corp., agreed to provide credit facilities of nearly $800 million for construction and other capital needs. With almost $2 billion of commitments received from lenders, interest in the project was so high that the syndicated loan was 2.4 times oversubscribed. Additional details of the financing were not disclosed.