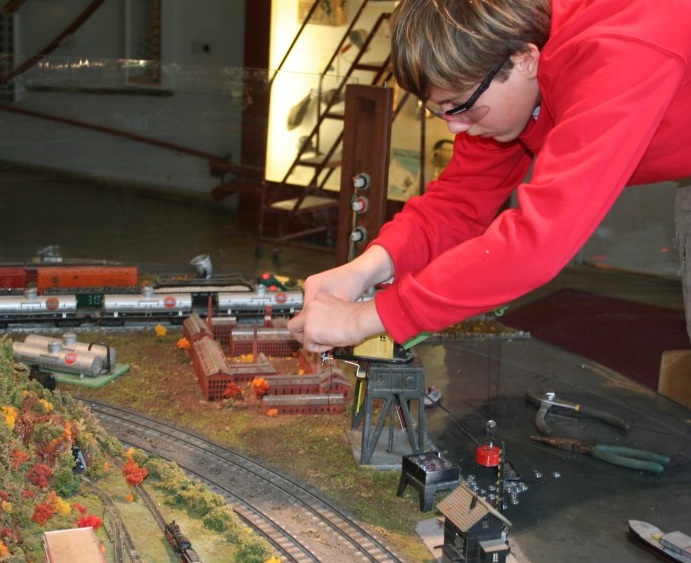 The aroma of freshly-cut wood greets visitors to the Eli Whitney Museum and Workshop, part of the original Whitneyville complex. That cedar scent, as I later learned, is part of the magic of the Gilbert American Flyer electric trains inside. Mechanical whimseys such as a magnetic crane, cows that move at the touch of a button, even a working mine with a viewing port – all are part of the magic of the annual holiday display.
Push a button and a train whistle punctuates the room, much to the delight of adults and children gathered around the landscape and tracks. Trains zip along past picture-perfect houses, trees, hills, farms, and a marvelous detailed city, too.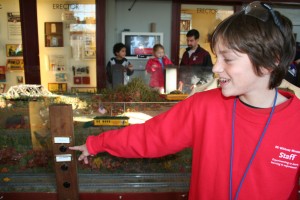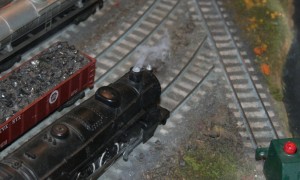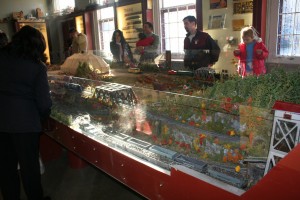 Way back in 1798, Eli Whitney, the inventor of the cotton gin, established the first factory in America for making firearms on this patch of earth now known as Whitneyville. And while it's not necessary to know the deep history of the area to enjoy the model trains that whistle and puff steam at the Mr. Gilbert's Railroad annual exhibit through Jan. 9, it sure adds to a visit.
The original factory village included buildings and houses and a covered bridge that spanned Mill River. The site itself is picturesque with the dramatic traprock mass known as East Rock as a backdrop.
A model of a cotton gin (give it a crank to see it work) is tucked away at the entrance.
Viewing the trains is free; donations to support the center are welcome. Donations of trains (any gauge, working or not) are also welcome. Call Bill Brown, museum director, at (203) 777-1833 or
Walter Zawalich, a senior research scientist at the Yale, who volunteers his expertise to make the museum trains run and curates the collection.
Visitors may also enjoy the A.C. Gilbert company's other products (a magic kit, Erector set) inside the display cases that line the walls. The spark of innovation is the thread that ties past and present together – from Whitney to Gilbert to the present workshop and mission of the center, which is dedicated to inventiveness, the trying and making of things that work.
For more information, see www.eliwhitney.org. Additional photos of the exhibit at Moo Dog Press magazine, on the new media network.