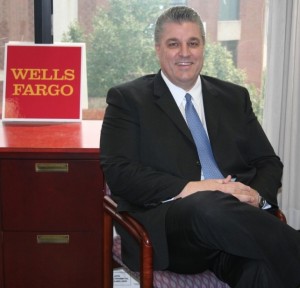 Kent McClun is the community banking president of northern Connecticut for Wachovia Bank, now a Wells Fargo company.
"We are the number one small business lender in the United States," he said from his office in Meriden. "We are wholeheartedly behind small business lending and have the money to lend."
Meriden, Connecticut, will be the corporate headquarters for the state.
"The city is centrally located and I can get to any part of state easily," McClun said. "A network of highways intersect here."
McClun previously served Wells Fargo as president of the northwest Iowa territory, managing retail and business banking operations. He joined Wells Fargo in 1999 for the Palm Desert, California, market.
The bank continues to grow market share. The transition for the Wachovia brand to Wells Fargo will be complete in the first quarter of 2011. Wells Fargo acquired Wachovia in late 2008. As the transition is completed, work continues to be the "premier provider of financial services in every one of our markets," he said. "That's our goal, that's our vision."
"Look over the merger and what we projected so far as the strength of the companies is coming to pass," he noted. McClun has already visited the 51 "stores" as he calls each bank in the Connecticut market.
"Our customers are most interested in the people of the stores and the community where the store is located," he observed. "You can change the sign, but people drive the company. And they recognize the name Wells Fargo."
The company features community partners breakfasts where each store manager designate a donation to a non-profit of their choice. "Between New York, New Jersey and Connecticut, in a two-month period, we've given out $450,000. That's a Wells Fargo program."
McClun believes in rolling up his sleeves and getting involved where he lives and encourages others to do the same.
"The strength of our communities is paramount to our success and the community."

Corporate
Wachovia/Wells Fargo employs more than 1,500 people in Connecticut. Wells Fargo & Company is a diversified, community-based financial services company with $1.2 trillion in assets. Founded in 1852 and headquartered in San Francisco, services include banking, insurance, investments, mortgage, and consumer and commercial finance. The company was ranked 19 on Fortune's 2009 rankings of America's largest corporations and is lead sponsor of Habitat for Humanity's 27th annual Jimmy and Rosalynn Carter Work Project, a building event starting Oct. 4 in six cities.